Current Issue
Vol. 12 No. 2 (2020): Philological Treatises
ISSN 2077-804X (Print); 2410-373X (Online)
Проблематика:  українська й зарубіжна філологія та перекладознавство.
Видавець: Сумський державний університет, Харківський національний університет імені В. Н. Каразіна.
Full Issue
View All Issues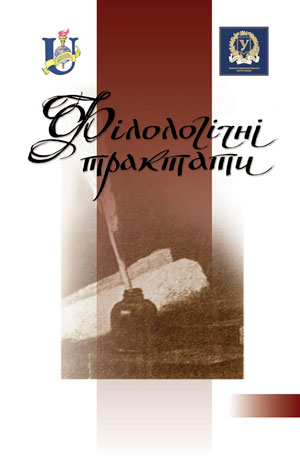 The journal "Filolohichni Traktaty" is a peer-reviewed edition, supporting the policy of open access to scientific publications.
The journal publishes original articles on the issues of Ukrainian and Foreign Philology and Translation Science, containing comprehensive grounding of new author conceptions.
Year of establishment: 2009
Certificate of official registration: № 15593-4065 ПР of 09 July 2009
ISSN: 2077-804X (Print); 2410-373X (Online)
Speciality: the publication is included to the List of the scientific special editions of Ukraine in Philology, category "B" (approved by the Order of the Ministry of Education and Science of Ukraine № 409 of 17 March 2020)
Frequency: twice a year (№ 1 – June; № 2 – December)
Languages: Ukrainian, English, Polish, French, German
Indexing:
1 Electronic Sumy State University Institutional Repository
2 V. I. Vernadskyi National Library of Ukraine
3 Ulrich's International Periodical Directory (authorizedaccess)
7 Open Academic Journals Index
Founder: Sumy State University; V. N. Karazin Kharkiv National University
Editorial board address: Ukraine, 40007, Sumy, 2 Rymskyi-Korsakov Street, Sumy, 40007, Ukraine, Sumy State University,
Editorial Board of the Journal "Filolohichni Traktaty"
Editorial board E-mail: tractatus@journ.sumdu.edu.ua
Editor-in-chief: Tkachenko Olena Hryhorivna
+ 380 542 33 02 25
Assistant secretary: Bondarenko Olena Yevhenivna
Е-mail: olena.b.ko@gmail.com
+ 38 050 505 18 04