Kalantayevska G. P. Passion for literary work as a national character trait of ukrainians in B. Antonenko-Davydovych's book "Through the Ukrainian land"
Keywords:
national character traits, readership, beginning poet, graphomania, psychological type.
Abstract
The article deals with attitude of B. Antonenko-Davydovych to mass passion of students of 1920s for literary
work and his opinion about graphomania as one of the displays of such passion. The author considers numerous
nationwide character traits, such as respect for antiquity, disposition to heated discussions, contempt for violence
and love for freedom, mentioned by the writer; draws attention to the phenomenon of "social entry into literature"
by giving examples of various psychological types of untalented beginning poets and self-loving madmen, motives
and goals they set, means they use to make editorial offices accept their works. The author points out that B.
Antonenko-Davydovych's derisive tone emphasizes his deep knowledge of human mind, Ukrainian mentality,
harmonizes with his satirical attitude to ignorant pen-pushers and compassion for a handful of gifted beginners.
The research proves that by applying his method of travel the writer has created a general picture of readership of
provincial cities with the spirit of national rebirth, self-development, creative rush and aspiration for knowledge.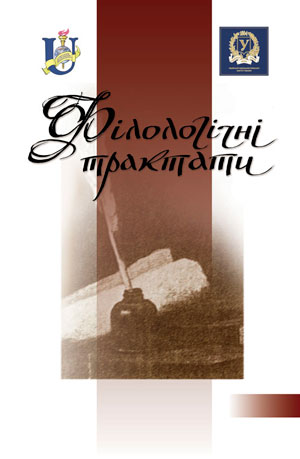 Downloads
How to Cite
Калантаєвська Г. П. (2020). Kalantayevska G. P. Passion for literary work as a national character trait of ukrainians in B. Antonenko-Davydovych's book "Through the Ukrainian land". Philological Treatises, 7(1), 85-93. Retrieved from https://tractatus.sumdu.edu.ua/index.php/journal/article/view/372