Smolnytska O. O. Explicit and implicit celtic symbolics in the works of the selected members of the New York group (Vira Vovk and Patricia Kylyna)
Keywords:
the New York Group of Poets, Celts, symbolics, the Holy Grail
Abstract
The article, at first, analyses the Celtic symbolics represented in the texts of the members of the New York
Group of Poets - the works by Vira Vovk (Rio de Janeiro) and Patricia Kylyna (USA) that are used as an example.
The Irish, Breton and other materials are involved. The common features of the Breton, Irish and other Celtic
cultures and the Ukrainian one are traced. In the case of Patricia Kylyna the synthesis of the Ukrainian, Celtic
and Germanic-Scandinavian archetypes is selected. The translator and translation studies strategies are used.
The similarity of the Ukrainian and Celtic national symbols and archetypes motivated by the Indo-European
heritage is analyzed. An image-symbol of a horse (mare), that is often described by authors-emigrants, is
emphasized. The research uses the Ukrainian, English, Irish-Gaelic, and Middle English languages.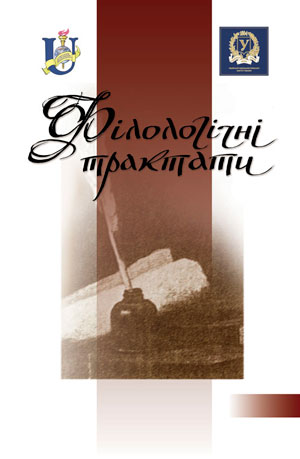 Downloads
How to Cite
Смольницька О. О. (2020). Smolnytska O. O. Explicit and implicit celtic symbolics in the works of the selected members of the New York group (Vira Vovk and Patricia Kylyna). Philological Treatises, 9(3), 139–150. Retrieved from https://tractatus.sumdu.edu.ua/index.php/journal/article/view/203