Gorbolis L. perception of Ukrainion essence in a foreign country (in the novel «Marriage with pilsener mug of beer» by Lesia Stepovychka)
Keywords:
psychological world, national identity, self-realization, foreign county, freedom.
Abstract
The article is based on the novel «Marriage with Pilzener Mug of Beer» by modern Ukrainian writer Lesya
Stepovychkа. One investigated the complex psychological world of strong-willed, resolute, determined, and selfsufficient Ukrainian, who in a foreign country kept her identity, successfully resisted the spiritual assimilation and
found the strength to return to Ukraine for the creative work .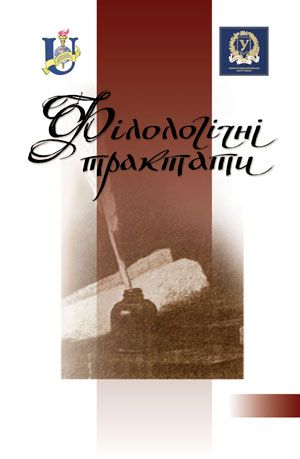 Downloads
How to Cite
Gorbolis L. (2020). Gorbolis L. perception of Ukrainion essence in a foreign country (in the novel «Marriage with pilsener mug of beer» by Lesia Stepovychka). Philological Treatises, 5(4), 90–96. Retrieved from https://tractatus.sumdu.edu.ua/index.php/journal/article/view/460