Nedoseka A. M., Kosenko J. V. Аxiological features of phraseologisms in Еnglish literary discourse
Keywords:
axiology, assessment, phraseologism, literary discourse.
Abstract
The article focuses on the axiological component of phraseological units as a means of evaluation in English
literary discourse. It reveals the functional potential of phraseologisms with positive and negative evaluative
components, and defines the semantic aspect of representation of axiology in English phraseology. Yhe semantic
aspect of axiological representation is defined. Having analyzed the principles of the phraseolofical units usage in
the English literary discourse, it became apparent that all the phraseological units that characterize an object
possess axiological properties. The essence of positive and negative evaluative components in Linguistics is
specified. It is determined, that the majority of negative assessments can be explained by the fact that most
phraseological units are anthropocentrically oriented – they basically give a negative characteristic of a person,
his/her physical and mental state, behavior and vital activity.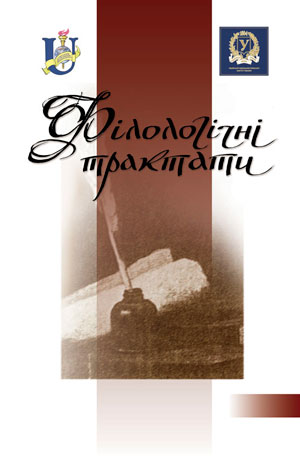 Downloads
How to Cite
Недосека А. М., & Косенко Ю. В. (2020). Nedoseka A. M., Kosenko J. V. Аxiological features of phraseologisms in Еnglish literary discourse. Philological Treatises, 7(3), 74–81. Retrieved from https://tractatus.sumdu.edu.ua/index.php/journal/article/view/337