O. V. Popova, J. Lazutkina. Continuous form in american poetic discourse of the XXI century.
Keywords:
addresser, addressee, Continuous form of the verb, category of aspect, category of tense, grammatical meaning, lexical meaning, poetic discourse
Abstract
The article deals with the research of American poetic discourse of XXI century with the further estimation of the role performed by the category of aspect in the process of this discourse molding. The rationale of the chosen topic is dictated first of all by the dominant position of the functional paradigm in the modern linguistics, and thus by special attention addressed to the study of language units and their «deepening into life», and to interconnection of language and speech levels within the discourse. The situation described in the poem is connected with the situation when the poem is being created by the artist. Thus, the reader gets two tasks: to interpret the information given by means of poetic images, and, as much as it is possible, to deepen into the situation, in which the whole poem was created, to find out possible information about the addresser, his surrounding, position, etc. To deepen into the situation there is Continuous form of the verb, which is observed as a cross point for category of tense and category of aspect and helps to mold the poetic discourse. The article is written within the research topic «Mechanisms of Civil Society Influence upon Euro-Integration Processes in Ukraine» №15.01.10-02.16/18.ЗП.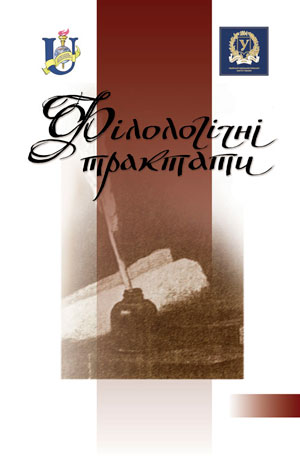 Downloads
How to Cite
O. V. Popova, & J. Lazutkina. (2020). O. V. Popova, J. Lazutkina. Continuous form in american poetic discourse of the XXI century. Philological Treatises, 10(3), 59–68. https://doi.org/10.21272/https://doi.org/10.21272/Ftrk.2018.10(3)-10