O. O. Zhulavskaya, A. Yehorova. Means of verbal influence in english media texts. Dualism of influence.
Keywords:
means of verbal influence, verbal influence, devices and means of influence, media text.
Abstract
The article is devoted to the study of means of speech influence which are used in English-language media texts. We focus on means of verbal influence, which belong to different language levels: phonological, lexicosemantic and morphosyntactic. We have found that this phenomenon can have different types, but in general, all units, which we examined, can be divided into two large groups: verbal means, having a negative character and means which have a positive character. Based on this division, we made a conclusion about dualism of the phenomenon of verbal influence and its ability to have a strong ambivalent impact on society.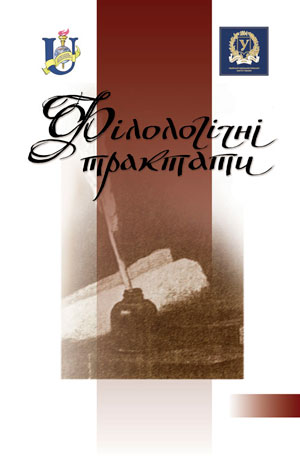 Downloads
How to Cite
O. O. Zhulavskaya, & A. Yehorova. (2020). O. O. Zhulavskaya, A. Yehorova. Means of verbal influence in english media texts. Dualism of influence . Philological Treatises, 10(3), 31–37. https://doi.org/10.21272/https://doi.org/10.21272/Ftrk.2018.10(3)-05