A LINGUOSYNERGIC VECTOR OF THE ANALYSIS OF A CONCEPT: THE DYNAMICS OF MODI
Keywords:
linguosynergetics, concept, attractor, logical modus, identifying modus, organizational modus, self-organization
Abstract
The focal topic of this paper is the discussion of a linguosynergic perspective on the analysis of a concept in modern linguistics. The study is informed by solid research in linguistic synergetics (Dombrovan, 2018), psycholinguistics (Zalevskaya, 2014), a theory of semantic constellations (Hardy, 1998), and a theory of modus models of concepts (Morozova, 2007; Nikitin, 2003). In the focus of attention are logical, identifying, and organizational modi of a concept. It is stated that activation of different modi in cognition occurs simultaneously, depends on the level of knowledge about a particular concept, ideological principles, value orientations, interests, life experience, extralinguistic factors, and is unique to each person. The process of self-organization of modi occurs due to internal factors, without external specific human influence. Will expression of an individual, together with the change of external conditions, can have only a stimulatory or inhibitory effect. As order parameters of the conceptual system leading it to the attractor (internal tendency to a relatively stable existence in discourse), the modi are able to cooperate or compete in the brain. If they compete, one of them prevails. In this case, the concept is quickly visualized in the cognitive system of a man and is easily differentiated in discourse. In the case of cooperation, the conceptual system uses a complex hierarchy of modi at the same time. Logical modus stimulates the emergence of irrational conceptualization – specific images, memories, fantasies, desires, patterns of mood and behavior, fragments of phrases, etc., which constitute identifying modus. At the same time, a person correlates the above-mentioned constituents of the concept with its intentional and implicational, involving organizational modus to work. Transformation of the structure at modi levels does not prevent the possibility of recognizing the concept, but rather contributes to its sustainable functioning as a systemic whole in a discursive environment. The analysis reveals that conceptual modi as system order parameters are forms of representation of different ways of comprehension and verbalization of holistic knowledge about the concept.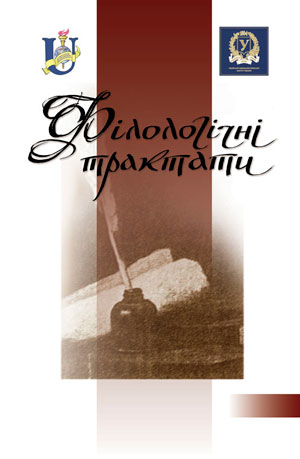 Downloads
How to Cite
Tatsenko Н. (2022). A LINGUOSYNERGIC VECTOR OF THE ANALYSIS OF A CONCEPT: THE DYNAMICS OF MODI. Philological Treatises, 13(1), 111–122. Retrieved from https://tractatus.sumdu.edu.ua/index.php/journal/article/view/975