NEOLEXEMS WITH THE VIP COMPONENT IN THE MODERN UKRAINIAN LANGUAGE
Keywords:
abbreviation, acronym, derivatives, borrowing, neoleksem, derived words, word-forming forms, transliteration
Abstract
The article establishes the historical and linguistic origin of the abbreviation VIP, analyzes the creation of original neolexes with this abbreviation, the lexical meaning of derived units with the estimated token-component VIP, which in the last two decades founded the word-formation system of the Ukrainian language. It is stated that social, political, economic changes in society at the beginning of the XXI century significantly influenced the development of language and contributed to the emergence of new objects, phenomena, concepts, in accordance with the new words for their names. The derivational potential of a neolexem with a VIP component and their lexical-semantic typology are established. It is proved that noun derivatives note the greatest ability to name concepts in any field, to reflect the diversity of a significant range of conceptual areas. The abbreviation VIP is used to know famous statesmen and politicians, influential officials, famous people from world culture and art, people who occupy the necessary society or service residents, have power, influence. That is why it was first combined with nouns - people were called. Later, this abbreviation began to be combined with nouns to denote other names of the Ukrainian language. The analyzed factual material made it possible to create a high frequency of placement of the abbreviation M, which creates derivative words that create a unified world dwelling to indicate the highest degree of detection of signs.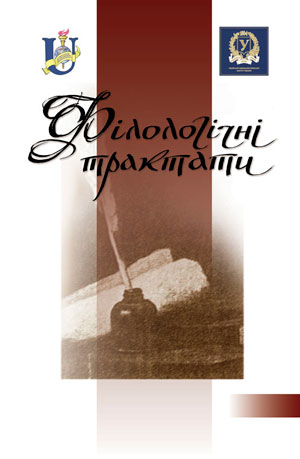 Downloads
How to Cite
Oleksenko , V. (2022). NEOLEXEMS WITH THE VIP COMPONENT IN THE MODERN UKRAINIAN LANGUAGE. Philological Treatises, 13(1), 42–55. Retrieved from https://tractatus.sumdu.edu.ua/index.php/journal/article/view/967