ARTISTIC VERSIONS OF THE PROBLEM OF NATIONAL IDENTITY IN THE WORKS OF ASKOLD MELNYCHUK
Keywords:
national identity, emigration, historical memory, literary interpretation, model of ethnic self-determination
Abstract
The purpose of the study is to determine the specifics of literary interpretation of the problem of national identity in A. Melnychuk's novels "What is told" and "Ambassador of the Dead" and identify correlation of the models of ethnic self-determination with the characters of these works. The paper mainly focuses on the features of the writer's literary embodiment of the models of national identity, substantiated by V. Aheieva, one of which is based on the idea of its immutability, the other one implies the possibility of an individual choice. It examines the challenges for national identity under conditions of emigration, outlined by the author in the novels "What is told" and "Ambassador of the Dead". The study establishes that the character creation in A. Melnychuk's works reflects unchangeable national and cultural self-determination of some heroes and evolution of its components through other personages, that illustrates V. Aheieva's statement with respect to the modern ideas about this problem. It emphasizes the correlation of the motifs of national identity and historical memory, manifesting itself in both novels with regard to particular characters and the collective figure of the Ukrainian community in the USA. The research finds out that in both A. Melnychuk's novels there are two polar models of national self-determination: some characters represent those who persistently cherish and maintain inherited identity (Zenon Zabobon and his daughter Slava; Adriana Kruk), whereas other heroes demonstrate flexibility, and willingness to assimilate in a new environment, defending their right to make an individual choice (Arkadii Voroh and Natalka Zabobon; the poet Anton, Alex Kruk and the narrator Nick Blud).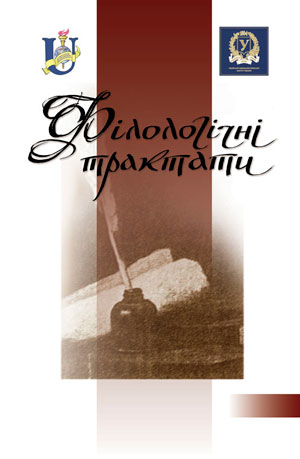 Downloads
How to Cite
Bokshan, . H. (2021). ARTISTIC VERSIONS OF THE PROBLEM OF NATIONAL IDENTITY IN THE WORKS OF ASKOLD MELNYCHUK. Philological Treatises, 13(1), 7–16. Retrieved from https://tractatus.sumdu.edu.ua/index.php/journal/article/view/960