STAGES OF THE ARTISTIC REALIA INTRODUCTION INTO ENGLISH LITERARY TEXTS
Keywords:
communicative situation, artistic realia, artwork, performer, recipient.
Abstract
The article is devoted to the differentiation of the stages of the artistic realia introduction into English literary texts based on the artistic communicative situations, taking into account the peculiarities of the communicants' interaction, artworks actualisation, and realisation of time and space characteristics in the artistic discourse. The stage by stage differentiation of the artworks introduction into the literary text is developed based on the structural analysis of the artistic communicative situations. Accordingly, there are preintroductive, introductive, and postintroductive stages. The completeness of each stage representation is determined by the form of the artwork in the literary text and can be complete, compressed, or zero.
In the article, the peculiarities of each stage are defined based on the analysis of the illustrative material. There are preintroductive (determining the time and space parameters of the communicative situation before artwork mentioning, introduction of the participants and description of their appearance and inner state), introductive (introduction of the artwork into the communicative situation, description of such components as form, meaning, artwork characteristics, and emotions connected with it), and postintroductive stages (reaction to the artwork after its perception, realised in the form of the verbalised or non-verbalised communication and capable of stimulating the discussion of the perceived information).
Special attention is given to the peculiarities of the artworks introduction from the performer's and the recipient's points of view; the details and aspects of their descriptions are considered. Depending on the person who tells the story, the stages of introduction can be prerepresentational, representational, and postrepresentational (in the performer's descriptions) or preperceptive, perceptive, and postperceptive (in the recipient's descriptions).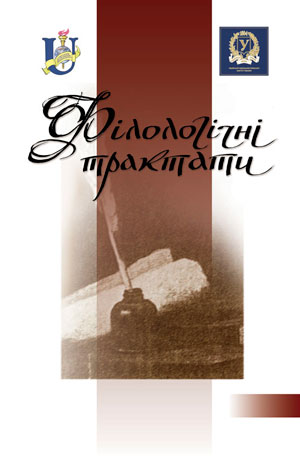 Downloads
How to Cite
Chernyk М. (2019). STAGES OF THE ARTISTIC REALIA INTRODUCTION INTO ENGLISH LITERARY TEXTS. Philological Treatises, 12(1), 7–16. Retrieved from https://tractatus.sumdu.edu.ua/index.php/journal/article/view/938