The Author's Proper Speech Sphere in the Novel of V. Domontovych «Doctor Seraphicus»
Keywords:
author's speech, compositional speech forms, description, reflection, narration.
Abstract
The scientific research was realised on the basis of the existential and psychological novel of V. Domontovych «Doctor Seraphicus». The compositional structure of the literary text was examined by marking the distinction of main types of a speech – the one of the author and the one of the character. It is emphasized that the author's point of view is most complete and explicitly manifested in the author's proper speech, which plays a leading role in the formation of the concept of a work, characterized by evaluativity and modality. The principal approaches to the definition of the notion «author's speech» from the perspective of psychology and linguistics were named.
Since the complex functional textual speech unities – descriptions, narrations, reflections structure the author's opinion, regulate its development and ensure its integrity and completeness, then, the role of each compositional speech form in interpreting the novel's idea was established and revealed (presentation of the macrocosm and the microcosm of a man, transfer of the temporal sequence and conditionality, reflection of the author's world perception). The special attention was paid to the form of reflection as a generalized representation of the author's point of view which is universal and autonomous.
The lexical-semantic, structural-syntactic and functional-stylistic features of compositional speech forms are analyzed in this work.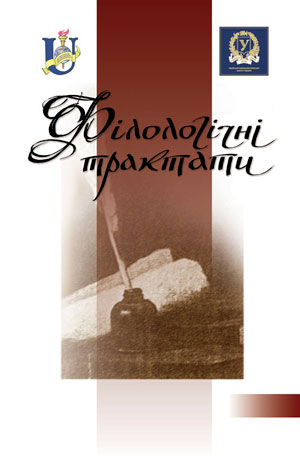 Downloads
How to Cite
Zubets, N. . (2020). The Author's Proper Speech Sphere in the Novel of V. Domontovych «Doctor Seraphicus». Philological Treatises, 12(2), 144–152. Retrieved from https://tractatus.sumdu.edu.ua/index.php/journal/article/view/931