A Cyborg-animal Image in B. Werber's Work "Her Majesty the Cat"
Keywords:
animal, man, Bernard Werber, cyborg, life.
Abstract
The article focuses on the novels «Tomorrow The Cats» (2016) and «Her Majesty the Cat» (2019) by French author B. Werber, in which the author presents one of his options for the future interaction of a man with an animal, where the latter is depicted outside the traditional perception of a man. The work explores the writer's vision of future relationships between species and the conditional symbiosis of animals and people in order to save both. The study examines cyborg-animals that strive to change the world order.
The writer in the novels presents a new level of human interaction with another (laboratory animal, cyborg animal) and calls for revision of the generally accepted human perception of animals. A man must abandon traditional highness and consider ways to stop environmental problems, among which are the extinction of rare species of animals.
The author tries to warn a person, therefore describes a number of situations in which a man appears to be cruel to the world around, and to protect a future man from results of her own actions. Against the background of the war, the author depicts the problem of human interaction with the outside world, in which the threat to everything alive is not only looting, plague, but also the invasion of rats who seek to dominate the city. For general salvation, animals unite with people, which makes it possible for the writer to interpret the image of an animal as a species close to humans. B. Werber says that the mission of people on earth is changing, they should worry not only about their species, but also about the world around and notes «The Earth is laid to the same extent to all forms of life, animals or plants that inhabit it. And no species objectively has the right to proclaim itself "higher than others"».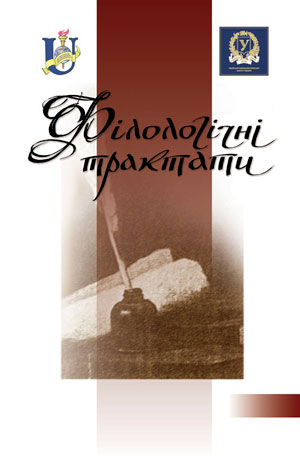 Downloads
How to Cite
Poltoratska, A. (2020). A Cyborg-animal Image in B. Werber's Work "Her Majesty the Cat". Philological Treatises, 12(2), 86–95. https://doi.org/10.21272/Ftrk.2020.12(2)-10