LINGUOEMOTIVE MODELLING OF EPIGRAPHS IN THE POSTMODERN TEXT BY JOHN FOWLES (on material of the novel The French Lieutenant's Woman)
Keywords:
epigraph, idiostyle, linguoemotive modelling, model, text.
Abstract
This article deals with the problem of the design of the linguoemotive model of the epigraphs of a postmodern text. The research object is a postmodern text, the research subject is the linguoemotive models of epigraphs in modern English literary discourse. The material of the research is the postmodern novel The French Lieutenant's Woman by John Fowles. The research methodology is based on the anthropocentric paradigm in the framework of communicative linguistics. Modelling is a process of the design and application of models. The aim of text modelling is to analyse and describe transfer, perception and interpretation of texts and situations verbally and non-verbally. Linguoemotive modelling of a postmodern text can be characterized as fragmented, incomplete, having different levels of generalization and interpretation. A situational emotive component that is presented linguistically enhances the sense of a text. The specificity of the novel The French Lieutenant's Woman by John Fowles consists in emotively loaded epigraphs. Interaction of a text and a situation on the basis of emotion-modified propositions reflects the author's idiostyle.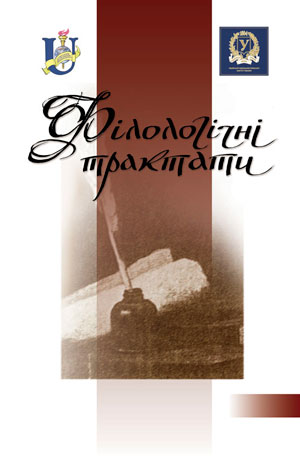 Downloads
How to Cite
Storchak М. (2020). LINGUOEMOTIVE MODELLING OF EPIGRAPHS IN THE POSTMODERN TEXT BY JOHN FOWLES (on material of the novel The French Lieutenant's Woman). Philological Treatises, 12(1), 110–116. Retrieved from https://tractatus.sumdu.edu.ua/index.php/journal/article/view/897