ARTISTIC REPORTAGES BY O. KRYSHTOPA'S UKRAINE: THE SCOPE 1:1
Keywords:
meta-genre, non-fiction, fact, reportage, artistic reportage
Abstract
The article is devoted to artistic reportages by O. Khrystopa a Ukrainian author of non fiction literature. The artistic reportage of the early 21st century underwent significant changes, evolving from the literary coverage of the 1920s. Contemporary authors refine their texts with different artistic techniques, genre-style techniques, which leads to the emergence of common genres. Such texts tend to be meta-genre in documentary and artistic discourse. The artistic reportages have a dual nature because they synthesize genre features of literature and journalism. There is a tendency to saturate artistic reportage with artistic techniques, expanding the possibilities of literature today.
The aim of the article is to find out the place of artistic reportage in the contemporary Ukrainian literary discourse and to analyze some texts, in particular the book by O. Khrystopa's Ukraine: the Scорe 1:1.
The author represented a map of his travels and assignments to different corners of the country, covering a number of small and large cities. It is noteworthy that he reproduced urgent topics: unemployment, employment, language, politics, ecology, coal fever, Chornobyl.
The artist skillfully uses linguistic and imaginative means that focus on poetic micro-images in the texts of artistic reportages in the book Ukraine: the Scорe 1:1. The sound and visual images give the texts the proof.
The artist imposes the text with the metaphorical, metonymic or amplifying character, uses simple comparisons, synecdoche, often parses a narrative that helps to focus on the background of the image; expresses the artistic background with literary allusions, preserving the tradition of considering one text within another.
The study of the genre specificity of the artistic reportage will be the subject of the further research.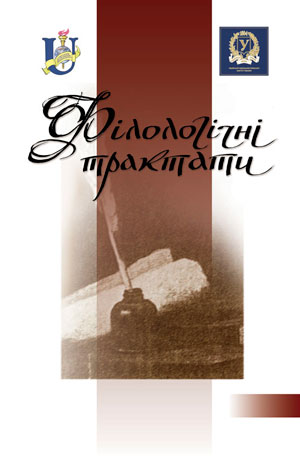 Downloads
How to Cite
Lenok М. (2020). ARTISTIC REPORTAGES BY O. KRYSHTOPA'S UKRAINE: THE SCOPE 1:1. Philological Treatises, 12(1), 73–81. Retrieved from https://tractatus.sumdu.edu.ua/index.php/journal/article/view/893