Fomina L. G. Floristic symbols in the art world of N. Vingranovsky: folk tradition and author's «i»
Keywords:
floral figure, folk symbol, intension, code, author's «I».
Abstract
The dynamics of the adaptation of the floral symbolism of the folklore genesis in the author text of
N.Vingranovsky is analyzed in the article. The basic attention is concentrated on finding out of the parameters of
its semantic spectrum and aesthetic functions in the lyric poetry of the poet. The personality self-expression of the
artist turns out in the process of the interpretation of the floral code of the figuratively-symbolic systems of
Ukrainian folklore.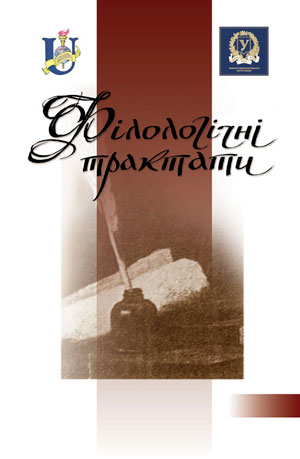 Downloads
How to Cite
Фоміна Л. Г. (2020). Fomina L. G. Floristic symbols in the art world of N. Vingranovsky: folk tradition and author's «i». Philological Treatises, 3(1), 34–40. Retrieved from https://tractatus.sumdu.edu.ua/index.php/journal/article/view/690