Baranova S., Blyzniuk А. Pragmastylistic and Translation Peculiarities of Taglines to English Movies
Keywords:
Keywords: movie tagline, advertising, epithet, metaphor, antithesis, simile, repetition.
Abstract
The article deals with the stylistic devices that are used in making taglines to English films. Nowadays, cinema is one of the most popular forms of art. The way of movie products advertising is a movie tagline that is a short phrase which conveys the main idea of the advertising campaign of a certain movie in a bright, expressive form. The article describes the influence on the addressee that is achieved by numerous linguistic means among which stylistically marked units dominate.
The research of movie taglines is conditioned by a group of factors. Firstly, a tagline is a type of advertisement typical of the modern English cultural environment. It matters much in creating a favourable film image. Secondly, a tagline is a bearer of conventional social ideas, values, stereotypes that necessitate their overall investigation.
The taglines to English movies are studied from the point of view of their pragmatic, stylistic and translation peculiarities. It is found out that the main expressive means and stylistic devices of the modern English movie taglines are an epithet, a simile, a metaphor and an antithesis. Without stylistically marked units in its structure, a movie tagline would be a set of short information about the film, and it could not interest a potential viewer. Epithets, antitheses, metaphors and other expressive means and stylistic devices create an emotional and expressive design of movie taglines. The stylistic design of a movie tagline is the main component of its adequate perception by a recipient. When using various stylistic techniques effectively, the main goal of the pragmatic aspect of the movie tagline is achieved – to evoke the addressee's interest, with the help of verbal means of influence to make a potential viewer buy a ticket to the movie or a disc with the film.
Some tips on translating taglines are given. It is pointed out that movie taglines are a great source of pragmatic, psycholinguistic and cognitive linguistic researches. The general theoretical issues of modern linguistics can be studied based on movie taglines.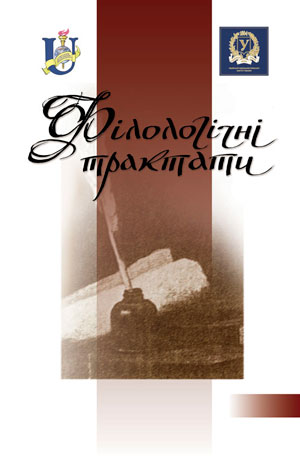 Downloads
How to Cite
С. В. Баранова, & А. С. Близнюк. (2020). Baranova S., Blyzniuk А. Pragmastylistic and Translation Peculiarities of Taglines to English Movies. Philological Treatises, 11(1), 7–14. https://doi.org/10.21272/Ftrk.2019.11(1)-1