Poustovit V. Yu. Рersonality of Mykhailo Kotsiubinskyi in Ukrainian historical and biographical prose
Keywords:
Ukrainian historical and biography prose, epistolary, genre.
Abstract
The article is dedicated to comprehensive analyses of historical and biography prose by M. Kotsiubynskyi. It
studies the genre traits of the writer's works, writer's national character. The author involved M. Kotsiubynskiy's
epistolary in order to learn more about his phenomenon. On the basis of the actual dates it was proved that the
writer's personality had been in the researcher's field of vision even in the beginning of the XX century. The
author makes the conclusion that the writer's works contain the Kotsiubynskyi's image; his epistolary heritage
contains important national, cultural and historical information about the epoch.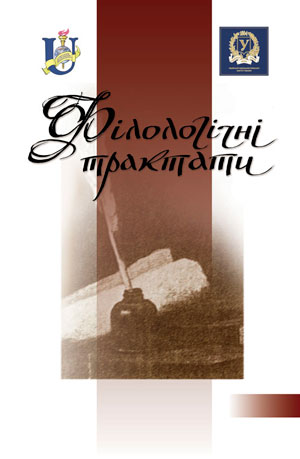 Downloads
How to Cite
Пустовіт В. Ю. (2020). Poustovit V. Yu. Рersonality of Mykhailo Kotsiubinskyi in Ukrainian historical and biographical prose. Philological Treatises, 7(1), 94-99. Retrieved from https://tractatus.sumdu.edu.ua/index.php/journal/article/view/371