Voropai S. V. Individual author' s derivation as a means of expression of evaluative intention by social network users
Keywords:
occasionalism, neologism, evaluation, estimated value, original communicative intention, derivatum.
Abstract
The article investigates individual author's occasionalisms created by social networs users to express the
assessment of social, political and economic events. The main focus is on studying the word-formation
peculiarities to estimate neoleksems. The evaluative component of such words is generally concentrated in their
meaning. However the derivational and lexical tools used for the creation of evaluation neolexems are interesting
things for research. Therefore, the author considers it necessary, first of all, to figure out the inventory of
linguistic resources that participate in the creation of the evaluation vocabulary of social networks users, as well
as clarify the role of word-forming and lexical resources in the formation of the evaluation semantics of words.
In the article new words are generally considered from the point of the influence the word formation structure
on stylistic and evaluative coloring of the text, shown a functional distinction between occasional lexemes of
different evaluation semantics, ascertained their place among the other expressive-evaluative words.
The article deals with new words from the perspective of the word formative structure influence on the
appraisal and stylistic coloring of the text, demonstrates the functional differences between occasional lexems of
different appraisal meanings; it finds their place among the other expressive-evaluative words.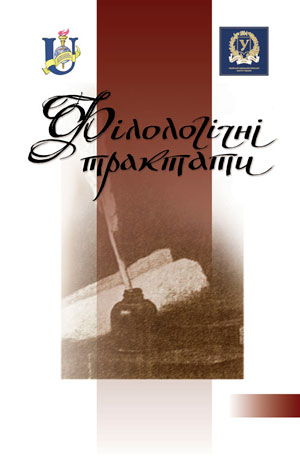 Downloads
How to Cite
Воропай С. В. (2020). Voropai S. V. Individual author' s derivation as a means of expression of evaluative intention by social network users. Philological Treatises, 7(4), 15–21. Retrieved from https://tractatus.sumdu.edu.ua/index.php/journal/article/view/306