Markova O. I. Internal form of the patriotism concept based on the ethymological analysis
Keywords:
internal form of the word, concept, etymological analysis, patriotism.
Abstract
Assuming the availability of basic common values, patriotism is expressed in the language through the system
of complex (cultural-mental-linguistic) unit - a concept. The assimilation of this phenomenon has been changing
and transforming in the process of improving the consciousness itself. The article deals with the establishment of a
hidden component of the lingo-cognitive phenomenon – the internal form of the word – defining the concept of
PATRIOTISM. Study of the internal form of the word on the basis of etymological analysis reveals the possibilities
for the reconstruction of individual chains of the language nomination, thus giving some information on the origin
and functioning of the word in the linguistic, cognitive and ethnological aspects of the research. The etymological
analysis makes it possible to identify the internal form, which helps to clarify the initial associations, the primary
conceptual features. The article hterefore deals with various aspects of the meaning of the concept of
PATRIOTISM. Its associative potential is analyzed, the universal linguistic and cultural features of the concept
coding are distinguished.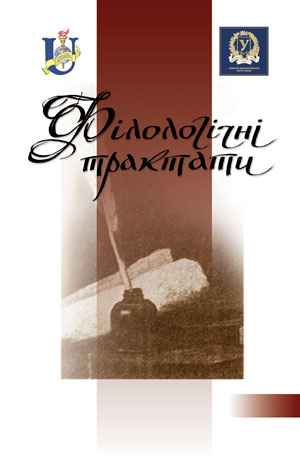 Downloads
How to Cite
Маркова О. І. (2020). Markova O. I. Internal form of the patriotism concept based on the ethymological analysis . Philological Treatises, 9(4), 55–60. Retrieved from https://tractatus.sumdu.edu.ua/index.php/journal/article/view/213