Drozdovskyi D. I. Postmodernism VS Post-Postmodernism: Philosophical Distinctions (on the Material of the Contemporary British Novel)
Keywords:
Keywords: post-postmodernism, postmodernism, contemporary British novel, naturalism, problem-thematic units of post-postmodernism, paradigm of meaning.
Abstract
In the paper, I spotlight the question about the determining the post-postmodern component in the novels that represent the contemporary literary process of the UK. The methodological conflicts that appear during the study of the contemporary literary process in the aspect of the attempts of literary scholars to extrapolate the key phenomena of postmodernism to the literature that has replaced this cultural and historical period is emphasized. It is determined that at the present stage of the functioning of literature it is expedient to outline first of all the changes concerning philosophical parameters of the novel; characteristics of post-postmodernism should be found not in the poetics but in the worldview of the protagonists by analyzing the motive and thematic units represented in the novels after 2000. The stylistic specificity of the post-postmodern novel determined by the intention of the characters to reach the level of comprehension of reality from rational positions, which makes possible the search for truth in the transcendental meanings, is emphasized. The emphasis relates to the semantic paradigm of the British post-postmodern novel. The strategies of positivistic thinking in the contemporary British novels, whose characters reveal a scientific approach to the perception of reality, their body, identity, thinking, etc., are determined. The principles of constructing a post-postmodern narrative are formed by spotlighting factual material (diary, encyclopedic records, notes, memoirs, etc.) oriented to intensify the search for characters in the plane of meaning and not only for the purpose of the postmodern game. The discussion with I. Kropyvko about the inappropriateness of considering the contemporary literary process in the categories of postmodernism was introduced. The newest philosophical studies («The Routledge companion to twenty-first century literary fiction», A. Pavlov's dissertation) are outlined, in which an attempt was made to systematize different directions determining the epistemological basis of post-postmodernism. The necessity of the contemporary theory of literature to define the literary phenomena after the year 2000 in the categories of post-modernist paradigm has been explained.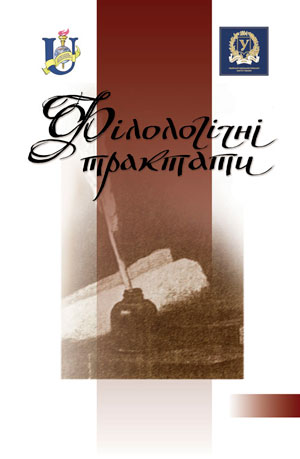 Downloads
How to Cite
Drozdovskyi D. I. (2020). Drozdovskyi D. I. Postmodernism VS Post-Postmodernism: Philosophical Distinctions (on the Material of the Contemporary British Novel). Philological Treatises, 11(3-4), 32–40. https://doi.org/10.21272/Ftrk.2019.11(3-4)-4