Yaremenko L. Keywords of the poetic concept "Motherland" in the poetry of V. I. Dziuba
Keywords:
poetic concept, native land, key words, meanings of the concept.
Abstract
The article is devoted to the study of the peculiarities of the bilingual poetic concept "native land" in the poetry of
V. I. Dziuba, a native of the Krolevets district of the Sumy region. With the help of the lexico-semantic analysis of the
concept, an attempt is made to define the organizing nucleus, comprehensive images and key words.
The analysis of the poetic speech of the poems testifies to the generalized symbolic meaning of the words
"September", "autumn", which pass from the poem to the poem, enrich themselves semantically, acquire new
emotional and expressive nuances in relation to the author's creative perception. The conceptosphere is made up of
such key words-symbols as the Krolevets rushnik, mountain ash, hamlet, Vesyolyie Hory, etc. Thus, the author's
concept of "native land" shows its aesthetic essence in different ways, but at the same time it is semantically complete
and self-sufficient.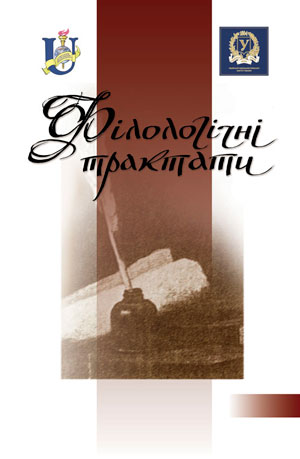 Downloads
How to Cite
Яременко Л. М. (2020). Yaremenko L. Keywords of the poetic concept "Motherland" in the poetry of V. I. Dziuba. Philological Treatises, 9(3), 90–97. Retrieved from https://tractatus.sumdu.edu.ua/index.php/journal/article/view/196