O.K. Lobova, O.A. Yevtushenko. Levelling of socio-cultural values in the jokes of the stand-up comedy.
Keywords:
stand-up comedy, joke, socio-cultural values, incongruity, comic
Abstract
The article deals with the structure of the English joke as a text-discursive formation in the genre of stand-up comedy. The specifics of current linguistic and cultural processes in the English-speaking American society are clarified by distinguishing the features of the sociocultural context in the linguistic genre of joke. The article presents the methods and means of creating a comedic effect in the genre of stand-up comedy which are based on comic incongruity by the levelling of actual American socio-cultural values in English joke. The effect of the incongruity mechanism is analysed; it is shown by violation of the composition (contradiction of the beginning and the end) and usage of special linguistic means, etc. The basic themes of the jokes are set and the main types of norms which are violated in the genre of stand-up comedy against the background of the socio-cultural, political, economic and historical context of the United States are discovered. The major discourse characteristics of English jokes are presented, that is the interconnection between the linguistic and extra-lingual aspects of the jokes. The article is devoted to the detail review of the specifics of the linguistic genre of joke in each aspect of the socio-cultural values (life, social, political, moral, religious and aesthetic) and the interconnection between the basic mechanisms of creating of a comic effect and the ways of their implementation in the jokes of American stand-up comedy through the levelling of modern socio-cultural values in English joke text. The linguistic genre of joke in stand-up comedy is considered as actual cultural and linguistic process which reflects current American socio-cultural values.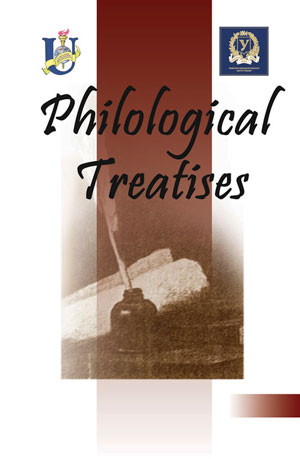 Downloads
How to Cite
O.K. Lobova, & O.A. Yevtushenko. (2020). O.K. Lobova, O.A. Yevtushenko. Levelling of socio-cultural values in the jokes of the stand-up comedy . Philological Treatises, 10(4), 44–55. https://doi.org/10.21272/https://doi.org/10.21272/Ftrk.2018.10(4)-6