GENRE AND STYLE INNOVATION OF THE NOVEL "SOLARIS" BY STANISLAVA LEMA
Keywords:
science fiction, futurology, novel, narrative, psychologism, existentialism
Abstract
The novel "Solaris" occupies a key place in the creative biography of S. Lem. Starting with this work, the writer decisively departs from the utopian projects of the future, which at that time were spread in the most diverse versions. He also resolutely rejects the "adventure" and "technological" variants of the SF fiction. His attention is focused on the classic form of the novel with the minimum necessary technical conventions of depicting life in the future. Among other things, a new vector of literary searches required close attention to the development of various forms and means of psychologism, which revealed additional facets of Lem's talent. At the same time, it was not an ordinary return to the classics. Lem does not simply move from an impersonal form of narrative to an "I-narrative" delving into the character's self-reflection, – he forms the strategy of an «unreliable» narrator with numerous fields of uncertainty and inexplicability. So he actually anticipates the concepts of narrative discourse (J.F. Lyotard, P. Ricœur) and the ideas of receptive poetics and aesthetics (W. Iser, H. R. Jauss). The strategies presented in «Solaris» were not completely new to world literature, but for the science fiction it was a truly innovative phenomenon. From today's height «Solaris» looks like an «untimely» novel that did not fit into the main trends in the development of modern science fiction. The dominants of the content and poetics of «Solaris» give reasons to consider the work is a futuristic existential novel.
References
Бовсунівська Т.В. Теорія літературних жанрів : Жанрова парадигма сучасного зарубіжного роману. Київ : Видавничо-поліграфічний центр "Київський університет", 2009. 519 с.
Кайтох, Войцех. Вступление к роману Станислава Лема «Солярис». Кайтох, Войцех. Солярис. Саракш, Краков. Москва : Статьи и очерки о фантастике и на другие темы. Арканар : Метагом, 2020. С. 49-70.
Кеба О.В. Рецептивна естетика в контексті сучасних літературознавчих стратегій. Фондові лекції викладачів факультету іноземної філології. Частина 5. Кам'янець-Подільський : Аксіома, 2017. С.128-138.
Кеба О.В., Шенкнехт Н.М. Проза Джозефа Конрада: проблематика і поетика екзистенціального світосприйняття. Кам'янець-Подільський : Аксіома, 2016. 188 с.
Кияк І. Дефінітивні проблеми жанрів фантастики у творчості Станіслава Лема. Київ. Київські полоністичні студії, 2012. Т. 19. С. 359-364.
Кияк І. Засадничі принципи та структура епістемологічної проблематики фантастики і футурології Станіслава Лема. Київські полоністичні студії. 2011. Т. 18. С. 318-321.
Кияк І. Природа фантастичного у творчості Станіслава Лема. Київські полоністичні студії. 2010. Т. 16. С. 417-424.
Копистянська Н. Жанр, жанрова система у просторі літературознавства : Монографія. Львів : ПАІС, 2005. 368 с.
Лем С. Фантастика и футурология: В 2 кн. Кн. 1. Москва : ООО «Издательство АСТ» :ЗАО НПП «Ермак», 2004. 591 с.
Лем С. Мой взгляд на литературу. Размышления и очерки. Москва : АСТ, АСТ Москва, 2009. 864 с.
Лем С. Так говорил... ЛЕМ. Москва : ACT : ACT МОСКВА : ХРАНИТЕЛЬ, 2006. 764 с.
Лем, Станіслав. Зарубіжні письменники. Енциклопедичний довідник. У 2 т. Т. 2 : Л – Я / За ред. H. Михальської та Б. Щавурського. Тернопіль : Навчальна книга. Богдан, 2006. С. 29-31.
Лем, Станіслав. Соляріс. Львів : Кальварія, 2007. 200 с.
Мерло-Понті, Моріс. Феноменологія сприйняття. Київ : Український Центр духовної культури, 2001. 552 с.
Наукова фантастика. Лексикон загального та порівняльного літературознавства.. Чернівці : Золоті литаври, 2001. С. 363-365.
Тодоров Цветан. Поняття літератури та інші есе. Київ : Вид. дім «Києво-Могилянська академія», 2006. 162 с.
Штейнбук Ф. М. Засади тілесного міметизму у текстових стратегіях постмодерністської літератури кінця ХХ – початку ХХІ століття: монографія. Київ : Педагогічна преса, 2007. 292 с.
Jordan M., Haladyn J.J. Simulation, Simulacra and Solaris. Film Philosophy. Volume 14, Issue 1, February, 2010. P. 253-273.
Kwosek J. Literatura jako narzędzie filozofii na wybranych przykładach twórczości Stanisława Lema. Filozoficzne aspekty literatury. Studia i szkice. Lublin : Wydawnictwo Naukowe TYGIEL. 2019. S. 50-59.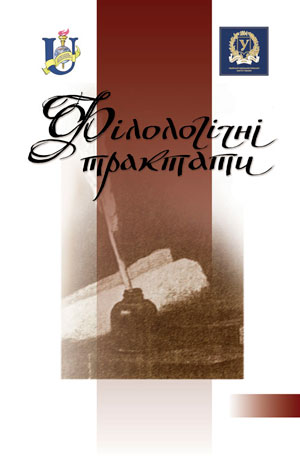 Downloads
How to Cite
Keba, . O. (2022). GENRE AND STYLE INNOVATION OF THE NOVEL "SOLARIS" BY STANISLAVA LEMA. Philological Treatises, 14(2), 56–64. Retrieved from https://tractatus.sumdu.edu.ua/index.php/journal/article/view/1040