PROBLEMATICS AND POETICS OF GALYNA ORLIVNA'S NARRATIONS OF THE 1930s
Keywords:
socialist realism, Galyna Orlivna, problematics, narrations, poetics, artistic means, psychological stress, symbolism
Abstract
The article focuses on the periodisation of creative works of the Ukrainian writer Halyna Orlivna, identifies peculiarities of the problematics, and studies artistic means in her narrations of the Kharkiv period. It is emphasized that after returning from emigration, Galyna Orlivna engages herself actively into current problems of those times, such as changed village life, topics regarding collectivisation, and construction of socialism. Her views onto these are reflected in her works in socialist realism. Particular attention is drawn to the fact that the main character of the writer's narrations ("Babskyi bunt" (Women's Uprising), "Ilishva", etc.) is represented by a strong and willful female character, capable of high feelings and unexpected actions, both in her personal and social life. It is pointed out that one perceives modernist aesthetics in Galyna Orlivna's works of the Kharkiv period, where the author reveals deep psychological features of her characters while involving a broad range of artistic means and techniques (symbolism of eyes, dreams, metaphorisation, and musicalisation).
References
Білик Г. Галина Орлівна – Клим Поліщук: «Дієві жертви великого історичного лихоліття». Рідний край. 2013. № 1 (28). С. 206–214.
Жиленко І. Р. Мала проза української й російської літературної еміграції 1919–1939 рр.: Проблемно-тематична парадигма та жанрово-стильова типологія: дис... докт. філолог. наук: 10.01.05. Київ, 2019. 465 с.
Жиленко І.Р. «Лечу думками на Україну...» (штрихи до літературних портретів забутих постатей доби червоного ренесансу Клима Поліщука і Галини Орлівни). Філологія початку ХХІ сторіччя: традиції та новаторство : матеріали Міжнародної науково-практичної конференції, 30 вересня – 1 жовтня 2022 р., м. Київ. Львів – Торунь : Liha-Pres, 2022. С. 7–21.
Заєць В. Плужани на ділянці великої форми. Плуг. 1930. №7. С. 61–79.
Клочек Г. Енергія художнього слова. Збірник статей. Кіровоград: Редакційно-видавничий відділ Кіровоградського державного педагогічного університету імені Володимира Винниченка, 2007. 448 с.
Літературознавча енциклопедія: У двох томах. Т. 2 / авт.-уклад. Ю. І. Ковалів. Київ : ВЦ «Академія», 2007. 624 с.
Лисиченко Л. Мовна картина світу та її рівні. Збірник Харківського історико-філологічного товариства. 1998. Т. 6. С. 129–144.
Логвиненко О. У лабіринті спинилася в 30-ті роки актриса й письменниця Галина Орлівна. Літературна Україна. 1992. 24 груд. (№ 51). С. 8.
Мацкевич І. Шляхом чуття. Україна. 1990. Ч. 29. С. 14–15.
Орлівна Галина. Ілішва; Без керми; У закутку; Пані // Моя кар'єра. Жіноча проза 20-х років. Київ : Темпора, 2017. С. 116–218.
Ольшевський І. Е. Останній притулок знайшла на Волині. Яровиця. Луцьк, 2016. № 3–4 (13-14). С. 86–88.
Орлівна Галина. Бабський бунт. Плуг. 1930. №7. С. 3–39.
Переломова О.С. Ідіостиль Валерія Шевчука: монографія. Суми, 2010. 138 с.
Ротач П. Лубни, Кулябки, 18. Стежками життя Галини Орлівни // Павло Ротач. І слово, і доля, і пам'ять… Статті, дослідження, спогади. Полтава, 2000. С. 357–403.
Фрейд З. Психология бессознательного. Санкт-Петербург, 2002. 319 с.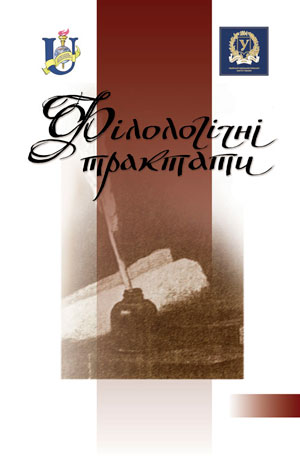 Downloads
How to Cite
Zhylenko І., & Vedmydera К. (2022). PROBLEMATICS AND POETICS OF GALYNA ORLIVNA'S NARRATIONS OF THE 1930s. Philological Treatises, 14(2), 37–46. Retrieved from https://tractatus.sumdu.edu.ua/index.php/journal/article/view/1038