PROBLEMS OF RECEPTION AND CONCEPTUALIZATION OF FUNDAMENTAL METHODOLOGIES ANALYTICAL PHILOSOPHY OF LANGUAGE
Keywords:
analytical philosophy, analytical philosophy of language, analysis, realism, anti-realism, language-game, counterfactual contexts, possible worlds
Abstract
The article examines the methodologies (paradigms) of realism and anti-realism, which are fundamental to analytic philosophy, and their representation in philosophical issues of semantics, reference, language-games, and communication. The study identifies the mythologemes of analytic philosophy and possible variations of its conceptualization based on style, methodology, subject matter, and topology. The author proceeds from the idea that analytical philosophy is the leading style of philosophizing in the Anglo-American cultural and philosophical topos, although it is ubiquitous in other regions as well. The achievements of analytical philosophy in the context of the development of world philosophical thought are quite significant, primarily because of the expansion of the range of philosophical problems and the proliferation of methods for solving them, in particular, in the plane of the discussion of analytical realist and anti-realist philosophers. The emergence of analytical philosophy on the philosophical horizon undoubtedly testified to the analytical nature of the twentieth century as the «century of analysis», the fundamental method of philosophizing which is the methodology of analysis, as interpretation for the sake of clarifying thought, revealing the logical structure of thought, eliminating semantic contradictions, detailed definitions, etc. The author emphasizes particularism, linguocentrism, logical and mathematical instrumentalism, orientation to the ideals of science and rationality, and other «norms» of analytic philosophy that testify to its primarily scientistic character.
References
Braun D. Empty names, fictional names, mythical names. Noûs. 2005. №39. P. 596-631.
Frege G. Über Sinn und Bedeutung. In: Zeitschrift für Philosophie und philosophische Kritik, N.F., Bd. 100/1. Leipzig: Verlag von C.E.M. Pfeffer, 1892. S.25-50.
Green M. Direct reference, empty names and implicature. Canadian journal of philosophy. 2007. Vol. 37, №3. P. 419-447.
Kripke S. Naming and necessity. Oxford: Basil Blackwell, 1980. 288 p.
McMichael A., Zalta E. An alternative theory of nonexistent objects. Journal of philosophical logic. 1980. Vol.9, №3. P. 297-313.
Meinong А. Über Gegenstandstheorie. Selbstdarstellung. Hamburg: Felix Meiner Verlag, 1988
Parsons T. Nonexistent objects. New Haven: Yale University Press, 1980. 258 p.
Portner P. What is meaning? Fundamentals of formal semantics. Oxford: Blackwell, 2005. 246 p.
Priest G. Towards Non-Being: the logic and metaphysics of intentionality. Oxford University Press, 2005. 208 p.
Quine W. From a Logical Point of View: Nine Logico-Philosophical Essays. Harvard University Press, 1980. 200 р.
Quine W. Word and Object. The MIT Press, 1964. 310 p.
Russell B. The Philosophy of Logical Atomism. London: Routledge, 2009. 208 p.
Sainsbury R. Fiction and fictionalism. New York: Routledge, 2010. 264 р.
Soames S. Beyond rigidity: the unfinished semantic agenda of Naming and Necessity. Oxford: Oxford university press, 2002. 379 p.
Strawson P. On referring. Mind. 1950. Vol.59, №235. P. 320-344.
Zalta E. Abstract objects: An introduction to axiomatic metaphysics. Dordrecht, Boston, Lancaster: D. Reidel Publishing Company, 1983. 193 p.
Лебідь А.Є. Концепт «істина» в аналітичній філософії. Суми: Вид-во СумДУ, 2017. 381 с.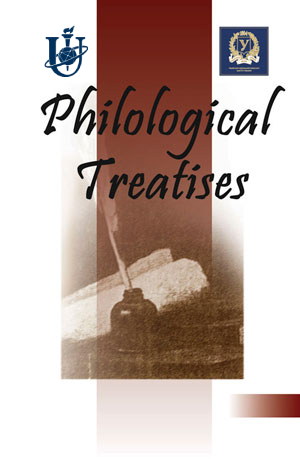 Downloads
How to Cite
Lebid , A., & Murashko , K. (2023). PROBLEMS OF RECEPTION AND CONCEPTUALIZATION OF FUNDAMENTAL METHODOLOGIES ANALYTICAL PHILOSOPHY OF LANGUAGE. Philological Treatises, 15(1), 90–106. Retrieved from http://tractatus.sumdu.edu.ua/index.php/journal/article/view/1073