PRINCESS AS A READER. THE SENSE OF THE REMINISCENSES IN OL'HA KOBYLYANS'KA'S NOVEL
Keywords:
Comparative literature, national identity, reminiscense, Ol'ha Kobylyans'ka, novel "A Princess" ("Tsarivna"), Heinrich Heine, Lorelei, E. Marlitt, Vsevolod Garshin
Abstract
Comparative literature sets our home tradition in a differential frame and takes us out of our culture altogether, offering us the provisional freedom to imagine our world, and ourselves, differently. But what if we remained in this new world forever, with only some Romantic Ideals taken from our family culture? That is the sense of the Neo-Romantic discours in Ol'ha Kobylyans'ka's novel "A Princess" ("Tsarivna") in comparison with the German Romantic tradition (Kobylyans'ka's family culture). Some critics then and now suggest that Kobylyans'ka's feminist ideas and her special feminine style were taken from E. Marlitt's novels for women. But E. Marlitt's novels sure weren't the only German sourse of Kobylyans'ka's novel. Many pages of the book are given to the scenes of reading and discussion German (and other European) poetry and fiction and listening German (and other European) music. The central role in this literature / musical discours plays Heinrich Heine's Lorelei.
References
Гундорова Т. (2004). «Марліттівський стиль»: жіноче читання, масова література і Ольга Кобилянська. Гендерна перспектива. Київ : Факт, 2004. С. 19–35.
Кобилянська О. (2001). Аристократка: Оповідання, повісті. Київ : Основи, 2001. 700 с.
Наєнко М. (2001). Іван Франко: тяжіння до модернізму. Київ : Академвидав, 2006. 96 с.
Павличко С. (1999). Дискурс модернізму в українській літературі. Київ : Либідь, 1999. 447 с.
Франко І. (2001). Мойсей. Перехресні стежки. Київ : Наукова думка, 2001. 384 с.
Damrosch D. (2020). Comparing the Literatures. Literary Studies in a Global Age. Princeton Univ. Press, 2020. 386 p.
Ladygina Yu. (2019). Bridging East and West. Ol'ha Kobylians'ka, Ukraine's Pioneering Modernist. Toronto Univ. Press, 2019. 279 p.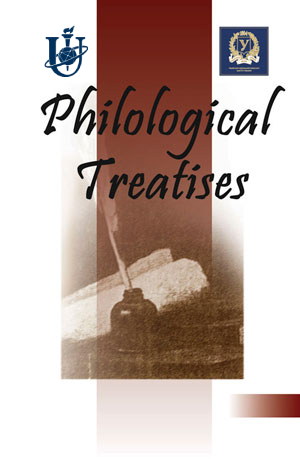 Downloads
How to Cite
Zvinyatskovsky, V. (2023). PRINCESS AS A READER. THE SENSE OF THE REMINISCENSES IN OL'HA KOBYLYANS'KA'S NOVEL . Philological Treatises, 15(1), 72–78. Retrieved from http://tractatus.sumdu.edu.ua/index.php/journal/article/view/1071