CREATIVE AND COLLABORATIVE LEARNING DURING RUSSIAN-UKRAINIAN WAR PERIOD: PHILOLOGICAL ASPECTS
Keywords:
creativity; learning styles; teaching methods; creative learning; collaborative learning; teaching and assessment; philology; innovations.
Abstract
During the russian-Ukrainian war period education in Ukraine passed into online or distance synchronous and asynchronous styles of learning. With the beginning of the full-scale invasion on February 24th University and the educational process in philology faced the new conditions of teaching and assessment, a new reality, but the same goals - to give the best professionally oriented and high-quality education to our students had to reach. The war rapidly changed the ways and methods of teaching and learning into more creative and collaborative for keeping philological aspects of studying highly professional and attractive, giving more professional and personal growth to our students. The article deals with the philological aspects of creative and collaborative learning of the English language, used during russian-Ukrainian war period. The relevance of this research is determined by focusing on the ways teachers adopt to the study process via new conditions and styles in the field of Philology, linking them with traditional and creative, and collaborative objectives and methods of teaching English philology, and giving examples of such work in studying Professional English courses at the University during the war period. The scientific novelty of the study consists in discovering and outlining new methods and ways of creative and collaborative online learning of Philology (English language) in the war period; to outline the experience of Ukrainian educators, the development of their methods, and ideas of creative teaching, learning, and assessment in a philological environment during the war period and their further adaptation in Ukrainian education by other educational institutions as well; to determine how the creative online teaching and learning environment and creative assessment methods expanded during the challenging war period and became an essential learning environment while adapting to the extreme circumstances during the lasting russian-Ukrainian War period. This article aims to explore the structure of creative teaching methods and assessment strategies employed in online Professional English courses. It will discuss various online assessment methods and outline creative teaching strategies along with the corresponding technologies. Additionally, it will examine the utilization of Kolb's Experiential Learning Cycle as a creative and collaborative method of learning. Furthermore, it will address the organization of classes and highlight significant signs in the educational process during the initial days and throughout the period of full-scale invasion. Lastly, it will address the challenges faced in the teaching process and elaborate on how these difficulties were overcome. The article will conclude by providing rules and instructions to navigate the studying process and assessment during the full-scale invasion period. The methodology is based on using a descriptive method that made it possible to characterise creative and collaborative methods of work; analysis and component analysis which help to outline the specific of the teaching process; principles of systematisation and classification are also used.
References
Airasian, P. W. (1997). Classroom assessment. New York: McGraw-Hill.
Bennet, R. E., & Gitomer, D. H. (2009). Transforming K-12 assessment: Integrating accountability testing, formative assessment and professional support. In C. Wyatt-Smith & J. J. Cumming (Eds.), Educational assessment in the 21st century (pp. 43-62). Dordrecht, Heidelberg, London and New York: Springer. https://doi.org/10.1007/978-1-4020-9964-9_3
Casey, D. (1993). Managing learning in organisations. Buckingham, UK: Open University Press.
Colman, A. D., &Geller, M. H. (1985). Group relations: Reader2. Washington, DC: A.K. Rice Institute.
Cunningham, I. (1994). The wisdom of strategic learning. London: McGraw-Hill.
Gill, J., & Johnson, P. (1991). Research methods f o r managers. London: Paul Chapman.
Hirschhorn, L. (1988). Theworkplace within. Cambridge, MA: MIT Press.
Hoggett, P. (1992). Partisans inanuncertain world: Thepsychoanalysis ofengagement. London: Free Associations Books.
Knight, B. (1992). Assessing Speaking skills: a workshop for teacher development. ELT Journal, 46(3), 294-302. https://doi.org/10.1093/elt/46.3.294 .
Kolb, D. A. (1976). The Learning Style Inventory: Technical Manual. Boston, MA: McBer.
Kolb, David A. 1981. Learning styles and disciplinary differences. In Alan W. Chickering and Associates, The modern American college, 37-75. San Francisco: Jossey-Bass.
Kolb, D. (1984). Experiential learning. Englewood Cliffs, NJ: Prentice Hal.
Levy, M., & Stockwell, G. (2006). CALL dimensions: Options and issues in computer assisted language learning. Mahwah, NJ: Lawrence Erlbaum Associates.
Lukes, S. (1974). Power: A radical view. London: Macmillan.
Mifsud, A. (1990). Guidelines for trainers: A trainer's manual. Valetta, Malta: Office of the Prime Minister, Staff Development Organisation.
Miller, E., & Rice, A. K. (1967). Systems of organisation. London: Tavistock.
Payne, D. A. (2003). Applied educational assessment. Canada: Wadsworth Group.
Surgenor, P. W. G. (2011). Measuring up: Comparing first year student' and tutors' expectations of assessment. Assessment & Evaluation in Higher Education.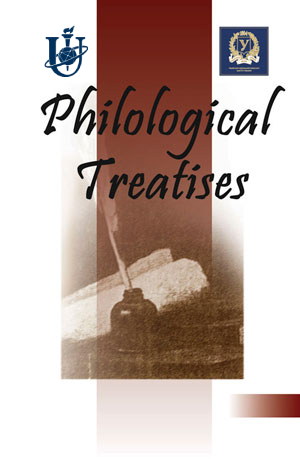 Downloads
How to Cite
Danylchenko-Cherniak, O. (2023). CREATIVE AND COLLABORATIVE LEARNING DURING RUSSIAN-UKRAINIAN WAR PERIOD: PHILOLOGICAL ASPECTS. Philological Treatises, 15(1), 51–61. Retrieved from http://tractatus.sumdu.edu.ua/index.php/journal/article/view/1069