Zhylenko I. Children's thematics in emigrant small prose of V. Vynnychenko and A. Averchenko
Keywords:
emigration, small prose,
Abstract
The article deals with the works of the interwar period small prose of the emigrant writers V. Vynnychenko
and A. Averchenko, devoted to the children's world, which was a tremendous value for the authors. It turns out
that the work of the Ukrainian author "Necklace" and of the Russian "king of laughter" "Children" contain similar
elements which can be united into two blocks: thematic (sacred thematics, suffering orphan life, child friendship,
relationships with adults, caring for parents, children's games and antics) and stylistic (psychology, philosophy,
music, means of expressiveness – comparison, metaphor, grotesque, hyperbolization, irony), which include the
features of language: folk signs, emotionality, outdated vocabulary. Attention is drawn to some common features
of poetics – eyes, hair, and smile.The author emphasizes the high artistic level of the works of small prose.
Vynnychenko as a neorealist and Averchenko as a humorist writer showed a respectful attitude towards
children, the best representatives of humanity. Both children and adults like their optimistic stories. The article
determines that the thematics of children in difficult emigrant years became a kind of salvation anchor for
outstanding writers of XX century.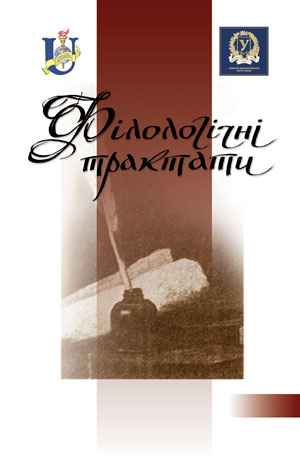 Downloads
How to Cite
Жиленко І. Р. (2020). Zhylenko I. Children's thematics in emigrant small prose of V. Vynnychenko and A. Averchenko. Philological Treatises, 9(4), 146–154. Retrieved from https://tractatus.sumdu.edu.ua/index.php/journal/article/view/226